TOP PRODUCER PROGRAM
Top Producers operate at a very efficient and productive level.

You can look at almost any organization and you will find that the top 20% of the sales force usually account for 80% of the sales. This isn't just Pareto Principle in theory, this is fact in organizations all over the country in all different industries. So what makes these people stand out above the rest? They must do things differently than the average salesperson, right? How about the top 20% of salespeople in your industry? They clearly are doing some things differently to consistently stand out from the crowd year after year. And finally, how about the Top 1% in your industry that keeps winning the awards year after year, looking like they're superhuman and nobody seems to understand how they do it. They clearly are doing many things differently.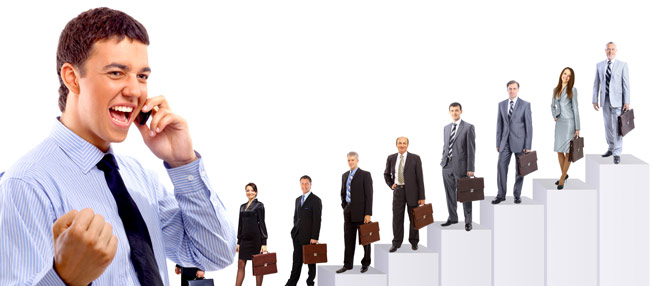 WHAT ARE THOSE THINGS?
We've done extensive research the Top 1% of the most successful salespeople of all time and we found a set of specific commonalities in these Top Producers regardless of industry. Although having the ability to persuade is important, that alone does not make a Top Producer.
Top Producers operate at a very efficient and productive level. These are strategies that can be learned and incorporated in the day and the life of each sales person creating massive increases in revenue for the company.
Imagine if each and every salesperson followed the same blueprint of the Top 1% of sales people in the world. Imagine how productive each member would be. Imagine how happy the staff would be. This is the secret of creating greatness.
Here are some common traits of the Top 1%:
| | |
| --- | --- |
| Time Management Strategies | Asks For The Order 5+ Times |
| | Strong Marketing System In Place |
| Strong Follow Up "System" | |
| | 9 Common Personality Traits |
If you notice many of these say "system, strategy, or method" which means these practices are done 10 out of 10 times. They learned the most efficient way of doing things and they run that pattern every single time- maximizing their sales.
TIME MANAGEMENT STRATEGIES
The top 1% truly understand the principles of time in conjunction with production. They realize that if you can work efficiently and were to be able to do things in half the time, this can double production. Top Producers know that if you can fit next quarter's sales into this quarter or even better if you can fit next year's sales in this fiscal year- you will earn twice the commission.
Many people offer their take on time management, but rarely do you see any powerful time management strategies like our program. In the Top Producer program, we teach salespeople how to work on the highest impact areas with maximum efficiency. We created a system that uses a combination of actual production, annual goals, and time- which we tie all together to make a Top Producer.
HERE IS A SMALL GLIMPSE USING THE 80/20 RULE:
The typical salesperson spends less than 20% of their day actually selling. They can be writing proposals, sending emails, managing their sales, managing their pipelines, or servicing an existing customer (not pertaining to a sale).
A Top Producer spends 80% of his or her day actually making sales calls. The other 20% or the day is left to do the other tasks associated with being a sales person. To keep the numbers simple, let's use a 10 hour day as an example. The Top Producer will allocate 8 of those hours to selling and only 2 for the supporting tasks.
The hours of the day in which they make sales calls we'll call these Power Hours. 80% of the Power Hours are allocated to making new sales calls and introductions- we'll call this "New Business". 20% of the Power Hours are following up on leads that the Top Producer had already contacted- we'll label this simply "follow up". This strategy allows the Top Producer to spend the majority of his or her day on the highest producing tasks. To create an actual schedule, we'll take 80% of 8 hours and round that up to 6.5 hours on creating New Business and 1.5 hours on follow-up. Think about it, it takes very little time following up with people. The hottest prospects are calling you, not the ones that you have to chase.
We go deeper…
80% of New Business will be spent trying to get more business from existing clients and referrals being that it is 6x easier to get more business from these channels. The 20% of the time allocated to getting New Business will be to new leads that are coming in. That leaves 5 hours talking to your clients who are placing new orders and 1.5 hours on new leads.
When we approach existing clients we are trying to do one of 2 things:
Get them to spend more dollars per purchase (bigger orders)
Get them to purchase more often.
It is important that you are always trying to achieve both
When we approach referrals we make sure we use the referral System every time.
So let's put this all together:
5 hours getting new business from existing clients and referrals
1.5 hours getting new business from new leads
1.5 hours following up on older leads
2 hours spent on other tasks that aren't selling
You can see that if a sales person arranged just 3 days a week like this that their production would skyrocket. The fact is, most salespeople spend an average of only 30 minutes a day actually selling. How much time are your sales people spending actually trying to help a customer make a purchase?
MindStorm will make your team operate like a machine. Remember this is only one small little glimpse into what we will do for them. Imagine if they had the top 1% referral systems, follow-up strategies, the Power Persuasion Method… Your team would be unstoppable.
Call us to discuss how to create the most advanced sales force in your industry!
TOP PRODUCER REFERRAL SYSTEM
We all know that referrals are one of the best ways to get new business- for many reasons. They are 6x easier to close than other new business. The cost of acquiring that customer is 6x cheaper because it is not coming out of your cost associated marketing campaigns. Most importantly, the customer has already viewed you as the trusted source because they already have the comfort of knowing how you perform for your clients- that is why your name was given to them in the first place.This customer is usually easier to deal with because they do not want to be known to their friend as someone being difficult and they hardly ever ask you to discount your product or services. What more can you ask for?!
Even though most people know this, very few have a system in place where they consistently get referrals from the customers. Sales people sometimes ask for referrals, but it's usually sporadic. Even when we finally come across the go-getters out there who ask for referrals consistently, rarely do they know the optimal way to ask which gets mediocre results at best.
Top Producers ask for referrals using time-tested techniques that work and they ask consistently on every single transaction. This is not done sometimes or most of the time, this is done every time.
How often do you ask for referrals?
When do you ask? (Before, during, after the sale?)
How do you ask for it?
Specifically who do you ask? (Clients, prospects)
MindStorm will teach your sales team to have a system in place of getting mass referrals. Your goal should be to have 60%+ of your business come through referrals. Call now to create Top Producers out of your sales team!
FOLLOW UP SYSTEMS
People in business often hope and expect to do business the first time they meet a prospect. Yet studies reveal that only 2% of sales occur when the two parties meet for the first time. The 2% who buy at a first meeting tend to be people who have already looked into the subject, and already know what they're looking for. The other 98% will need time depending on where they are in their buying process.
Different studies carried out at different times, in different places, by different market research companies over a number of years all reveal that 80% of non-routine sales occur only after at least five follow-ups.
Now that we know people do not often buy on the initial contact and in fact, it takes at least five… let's look at some scary industry statistics:
46% of sales people never follow up after one contact with a prospect
22% of sales people never follow up after two contacts with a prospect
14% of sales people never follow up after three contacts with a prospect
12% of sales people never follow-up after four contacts with a prospect
That tells you that 94% of sales people never follow-up after 4 contacts with the prospect, and only 6% of sales people ask for the order a fifth time. Being that 80% of sales occur after at the 4th contact with the customer, these sales are being made by only 6% of the sales people- Top Producers.
Top Producers diligent follow-up. As a matter of fact, they have a follow-up "system" in place. They understand that 63% of people requesting information on your company today will not purchase for at least 3 months … and 20% will take more than 12 months to buy. Top Producers win the game with a long-term approach.
Our consulting specialists want to help you and your company strategically achieve your goals.
Have a question? Get in touch with us.