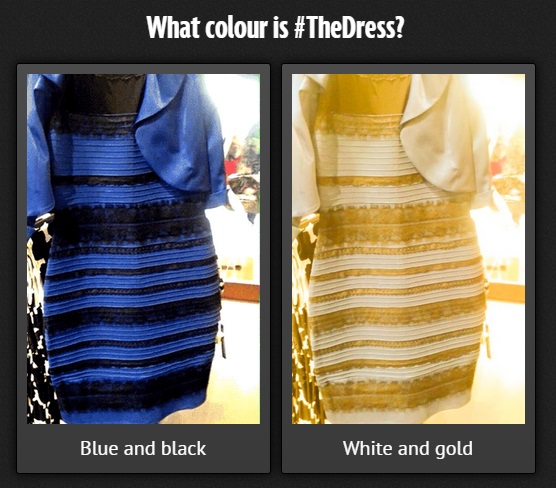 By now you have already seen this picture. In the last 24 hours this picture when viral faster than Kim Kardashian's nude magazine photo shoot when she almost broke the internet a few months back. Although this photo has been altered to show both variations, some people see blue and black in the original version, while others adamantly see white and Gold.
We won't be discussing the science of why some people see it one way over the other, you can find that here. Today we will focus on the #1 mistake sales people make, the mistake of not looking at things from the customer's point of view.
Often sales people are:
Too concerned with their own selling process rather than learning the customer's buying process and delivering the information in that way
Talk about features / benefits which appeal more to the sales person instead of understanding the customer's world and their interests
Focusing more on overcoming objections instead of aligning with the customer, seeing from their perspective and finding solutions
Your Customer's Perception is Reality
Fact is that if you want to change your customer's reality (making a new purchase), you must first change their perception. In order to do that, you have to first align with your customer. It's important to understand their world, their concerns, fears, likes, dislikes, and beliefs so that you can speak their language before you expect your words to persuade. You have to be able to empathize with the customer and completely understand their problem so that you, with all your knowledge and experience, can offer the solution. Until this happens, no sale will be made.
Things to Remember
Ask questions– What is right for each customer varies so in order for you to be able to find the best solution, you must ask the questions to completely understand their world.
Ask better questions– What the customer focuses on will determine how they feel. How they feel will determine if they buy. You control their focus, how they feel, and if they buy with the quality of your questions.
Listen twice as much as you speak– God gave us two ears and one mouth, follow that ratio.
Educate the customer– After you align with the customer, now you can educate them on other factors. Give them different points of view and other information so that you can create new realities.
Create a better experience for your customers and you will have a better company. It all starts with their perception.
George Athan is the CEO of MindStorm, a strategic consulting and sales training firm in New York City. MindStorm helps companies achieve rapid growth by focusing on 4 Key Performance Areas: Strategy, Innovation, Marketing, and Sales.